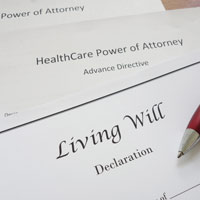 No one enjoys making decisions about the end of their lives. But if people do not act when they are still relatively healthy and mentally competent, they could end up in the kind of situation they would want to avoid.
A few lucky people die at a ripe old age in their sleep – probably the way most of us want to go if we had the choice – but that is not, unfortunately, how most people leave this world. Good estate planning, including a living will and health care power of attorney, make end-of-life and health care decisions easier on loved ones because you made your wishes known.
These are different documents, and it is wise to have both.
Living Will
A living will literally deals with the end of life. In it, the person declares that they do not want resuscitation (DNR) or life-sustaining treatment if they are terminally ill and such actions only postpone dying, as the person will not recover and may remain unconscious and unresponsive. The living will does not pertain to any other medical circumstances and is directed primarily at doctors and other health care providers.
It is important to keep the living will specific, as no one knows their end of life circumstances. For example, a person may not want resuscitation; but some living will templates may include withholding of food and water from a dying individual. Some people may not feel comfortable with that, although they also do not want their lives prolonged in an unconscious or vegetative state.
Give careful consideration to what you do or do not want at end of life when creating your living will.
Health Care Power of Attorney
A durable health care power of attorney may kick in when an individual is not at death's door, per se. This document allows an individual to name another person to make health care decisions for them if they are unable to do so themselves. For example, such a durable health care power of attorney may come into play if a person is in an accident and unconscious, and cannot make their own treatment decisions.
The person granted health care power of attorney is called the health care agent. This agent may hire and fire health care providers treating the patient, and make other medical decisions for the patient. However, a durable health care power of attorney does not override a living will.
Choose Wisely
Obviously, it is essential to choose someone you trust deeply as a health agent. You should let this individual know your health care wishes, to the greatest extent possible. If the agent does not know your opinion on certain health care matters, they must act in your best interest. This is why it is important to seek the assistance of a Delaware County wills and estates lawyer to make these documents as detailed as possible.
Delaware County Wills and Estates Lawyers at Eckell Sparks Help Clients Make Good Estate Planning Decisions
A good estate plan protects your family and your assets. Contact the experienced Delaware County wills and estates lawyers at Eckell, Sparks, Levy, Auerbach, Monte, Sloane, Matthews & Auslander, P.C. for all your estate planning needs. Call 610-565-3701 or complete an online form today for a free consultation. We have offices in Media and West Chester, Pennsylvania, and represent clients in Delaware County, Chester County, and Montgomery County.